Recherche
Anthony Parnther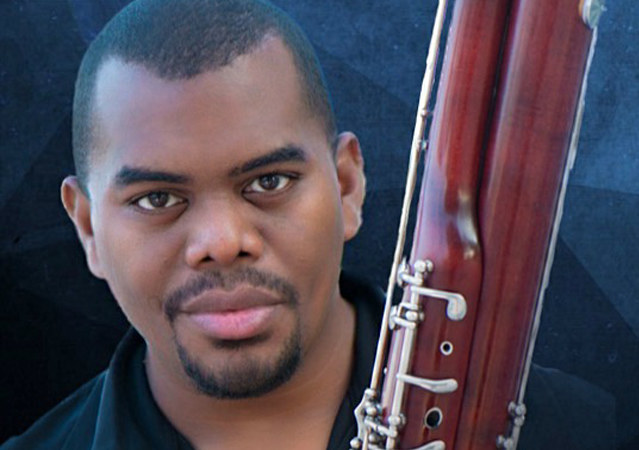 Recording artist for motion picture, television, and video game scores
Hailed by the Huffington Post as "the ultimate in tonal purity" and praised by the L.A. Times for his "effortless phrasing", Anthony Parnther is a Los Angeles based recording artist for motion picture, television, animation, and video game scores.
Anthony has played bassoon and contrabassoon in the Hollywood Studio Symphony on soundtracks for Hollywood's preeminent film and TV composers such as John Williams, Terrence Blanchard, Danny Elfman, Bruce Broughton, Michael Giacchino, Mychael Danna, John Debney, Ludwig Goransson, Mark Isham, David Newman, John Powell, Joel McNeeley, Harry Gregson-Williams, Junkie XL, Marco Beltrami, Mark Snow, Ramin Djawadi, Alan Silvestri, and Hans Zimmer.
You can hear Anthony on his Schreiber S-91Prestige bassoon on a long list of blockbuster films and television shows like Star Wars Episode IX: The Rise of Skywalker, The Lion King, Call of the Wild, Green Eggs and Ham, Star Wars: The Mandalorian, Mulan, The Simpsons, Family Guy, American Dad, Star Wars: Rogue One, Star Trek: Beyond, New Mutants, Onward, Scoob, Spies in Disguise, The Orville, Moana, BlacKKKlansman, The Conjuring, X-Men: Apocalypse, and many more.
Anthony's extensive discography includes recordings and live performances with Jennifer Hudson, Rihanna, Jackie Evancho, Beyonce, Kanye West, Hanson, Snoop Dogg, The Eels, Madonna, Kid Cudi, Il Volo, Elton John, Michael Bolton, Pete Townsend, Billy Idol, Evanescence, Vanessa Williams, Maynard Ferguson, Wynton Marsalis, Doc Severinson, and Stevie Wonder. He has appeared on the American Music Awards, the BET Awards, the Tonight Show with Jay Leno, the Ellen DeGeneres Show, the Jimmy Kimmel Show, Video Games Live, and the Video Game Awards.
When he's not in the studio recording his bassoons, Anthony serves as a sessions conductor in the Hollywood recording studios and is the Music Director and Conductor of the San Bernardino Symphony in San Bernardino, California, the Southeast Symphony in Los Angeles.
Retour en Haut